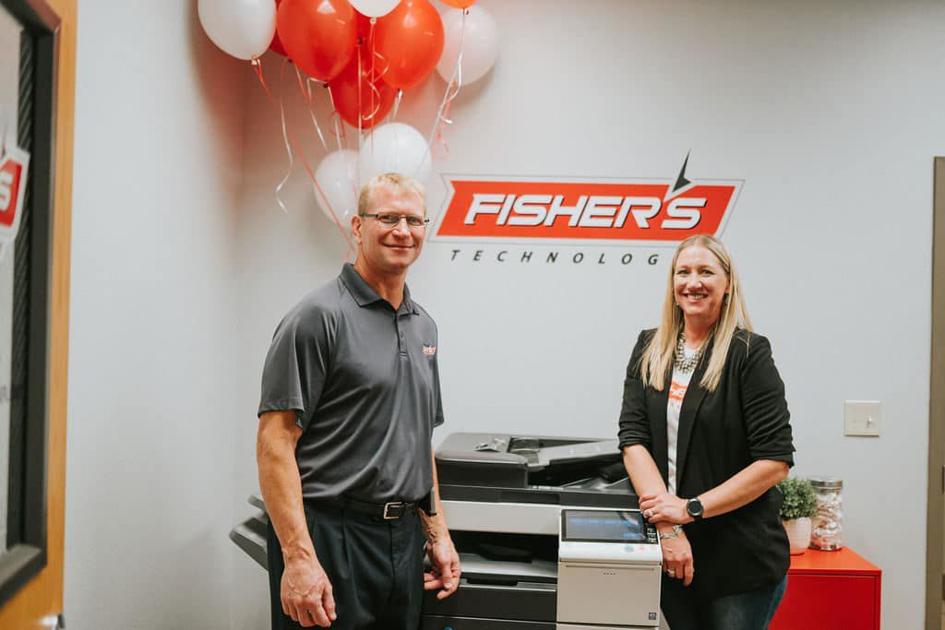 The people at Fisher's Technology are experts in taking a boring product — office technology — and turning it into something exciting — or at least not painful — for both for employees and for customers.
According to the Fisher's Technology website, employees "manage IT environments (servers, cloud environments, network equipment, computers, mobile devices, phones, and applications), sell and service copiers and printers (Canon, Konica Minolta, OCE, HP, and many others), and streamline business operations with electronic document automation and workflow solutions."
"Really, anything that is in an office, a business, we sell something," said Fisher's Technology's Eastern Idaho Regional Director Kasi Nelson. Plus, she said, "any of those things that we sell, we repair."
And they do all that while making sure employees and customers are happy.
Among its accolades, the 84-year-old Boise-based company was voted for 11 years straight as one of the best places to work in Idaho, was recognized three years in a row as a Top 100 Privately Owned Company in Idaho, and was also named four times as a Inc 5000 fastest growing company in the United States
In the past two years, the company has grown from five locations to 13, including one in Pocatello that opened in September. There has been another East Idaho location in Idaho Falls since 2011 and the next closest location is in Twin Falls. Overall, the company has five locations in Idaho, six in Montana and two in Washington and now has more than 160 employees spanning the three states, including 11 in East Idaho.
"It just happens that those companies came up for sale in the same year," said Nelson who oversees the Pocatello and Idaho Falls locations. "We went from about $13 million per year to just shy of $30 million this year in two years."
Nelson credits Fisher's Technology's owners for having forward-thinking business acumen and for keeping their eyes on companies that might be good fits for Fisher's to acquire.
"What they did is if it felt like a Fisher's fit when they met them at a dealer conference," Nelson said, "they kind of put a seed in there and said, 'Hey, when you guys are ready to sell, it's a good Fisher's fit. Your customers are like our customers. You've got a culture is a lot like ours.'"
Because of all those acquisitions and thus gaining lots more employees, Fisher's jumped into a different category in the Best Places to Work in Idaho — from the Medium Employers category to the Large Employers category — and only earned an honorable mention this year.
"That's the first time we haven't made it, so our goal for 2020 is to make it," Nelson said. "That was devastating to our CEO because he is all about employees first."
THE NEW GUYS IN TOWN
Nelson said that so far it's been slow going getting into the Pocatello market, but she has hope that if businesses get to know Fisher's and let the company spoil them, they'll eventually come around.
"You don't know what you don't know," she said. "You don't know that billing can be easy, that you can get one invoice for everything. You don't know that there's a company out there that's a one-stop shop. I can do your phones, your IT, your printers, your copiers and your software, and all you have to do is click a button online to say you need service on one of those items, and I can have a technician out to your place in under four hours. That's what makes us different."
Pocatello's account manager and currently the only full-time employee at the office, David Brown, said a lot of the problem is waiting for businesses' leases to come up. Plus, lots of businesses just use whatever technology their corporate headquarters send to them, and there hasn't been much time yet to educate Pocatellans about what Fisher's does.
"I think it's learning, and it's hard being the new guy anywhere you go," Brown said. "I get a lot of, 'Who do you work for? Who's Fisher's?' … A lot of people say, 'I'm not exactly sure what Fisher's does,' and until they talk to you a bit, they don't really understand what it's all about and what the company is about. I think that will take a little bit of time, but what I've seen also is there's definitely a need to come in here."
Although it's slow going right now, Brown said Fisher's has what it takes to make it in Pocatello — people just have to get used to the "new guy" first.
"What I liked about Fisher's is when I met (the owners), they want to be open, they want to be transparent with customers." he said. "… They've grown enough to have the power to be competitive, but they also have the small business feel still, and that's why I think eventually we'll thrive here."
Fisher's is renting the Pocatello office in the Omni Building at 275 South Fifth Ave., Suite 125, but Nelson said the company always has the same goal when they move into a new community.
"Our long-term goal in any market we get into is at year three we have built up enough clientele that we can purchase a building and invest in the community," she said.
She also hopes that in three years, Fisher's will have three full-time Pocatello-based employees instead of one.
In the meantime, the company is hoping that more people in the community will get to know what Fisher's is all about at a Pocatello-Chubbuck Chamber of Commerce Business After Hours event to be held later this month at the Omni Building. The event will run from 5 to 7 p.m. Feb. 27.
TRANSPARENT, TRUTHFUL, HONEST
Nelson says one of the things that sets Fisher's apart is its company culture, which is built on being transparent, truthful and honest. She fell in love with the company several years before she worked there because of a case study she was working on while completing her bachelor's degree at Boise State University.
"During that time, I got to sit down and meet with the owners," she said. "They literally told me everything. So for two semesters, I got to do a study on this culture and the sky was the limit. If I wanted to join a board meeting, they would let me."
She added, "They're transparent, authentic, open book. … They give you the truth. They don't sugarcoat it. They tell it like it is and it's just really direct, and it was so refreshing. And they hire to that. That's the quality that they hire to is being authentic, truthful, honest. All of those things that we hold highly as a value, they live every day. Those aren't core values; that's just about being a good human."
At the end of her case study, Nelson told the owners of Fisher's that she wanted to work there, and, though it took three years, she eventually did.
"At the end of (the case study), I was like, 'Who would not want to work here? It's incredible,'" she said.
TAKING CARE OF EMPLOYEES
There's one problem, though: Fisher's Technology sells products everyone needs but no one likes buying and probably as many people don't like selling.
So how does Fisher's keep employees happy? By treating them well.
Before new employees start, they are sent a welcome packet with their first day's schedule and some swag. Then on their first day, everything is already set up for them. Plus, from day one, each employee is officially a Fisher's employee. There is no probationary period.
"The first day you walk in, you already have your computer sitting on your desk. It's already programmed with your email," Nelson said. "Your cellphone is waiting for you. Your desk is decorated with balloons and a banner. … How many times have you started the first day of a job and you get there and it's chaotic? No one's there to meet you. You know you're supposed to be there, but everyone is so slammed and busy. What we do is change that whole perception and say, 'This is the thing that we have to invest in and we have to make time.'"
After each employee's first week, Fisher's sends a care package to their family with a note saying, "Thank you for sharing your person with us," and tickets to the movies.
Plus, at several of the offices including Boise and Idaho Falls, the company keeps kegs on tap for employees to drink — starting at 4 p.m. — and will pay for an Uber if an employee gets too inebriated to drive. Payette Brewing Co. in Boise even brews a special Fisher's beer for that office.
"It's a fun place to work," Nelson said.
Even the interview process for potential employees is a bit different at Fisher's. For account manager Brown, the process took over a month and required several interviews.
"(Brown) went to Boise, job shadowed, met with the owners, sat with them," Nelson said. "We made it so he could job shadow. He went with an account manager to see if he even liked it, and we paid for all that."
Brown was recommended to Fisher's by several people in the community, and that goes back to another Fisher's principle: Always be recruiting.
"It's rare on our sales team that if we have a hole and someone leaves and moves on that we don't have someone to backfill it because we're always recruiting," Nelson said.
Fisher's will also hire people from outside the industry.
"My account manager in Idaho Falls was a bartender before he did this," Nelson said. "So we don't necessarily hire from the industry. We don't necessarily hire the professional salesperson. We do something different, and we do that for a reason because we just want to be different. We want to break the status quo."
There is one downside to working at Fisher's: There's not a lot of upward mobility. Nelson said the company's three owners are still young, and they're not going anywhere for a long while. Because of that, it's hard for employees to advance within the company, and Fisher's recognizes that many of their employees will leave. However, their leaving is not a sad or bitter experience; instead it's a celebration.
"When you leave and go someplace else, we're going to celebrate with you when you go," Nelson said. "… This is your place for right now and we're going to give you the experience, and we are going to teach you as much as we know about business. We're gonna get the best of you, and when you leave for your forever place or your long-term place, we're gonna give you a high five to celebrate it."
She said former employees still retain relationships with Fisher's and speak highly of the company.
"I can't tell you how many people we have who are no longer working for Fisher's who we are still partners with, that we continue to still do business with, that we continue to build relationships with," Nelson said.
Nelson said she's worked for companies that treat the customers right but not the employees and for others that treat the employees great but not the customers. Fisher's, she said, has the right balance.
"It just seems that Fisher's has it right on both aspects," she said. "Our core value is extremely happy customers. That's it. … At the end of the day, it's about extremely happy customers, and to have happy customers, you have to have happy employees."
TAKING CARE OF CUSTOMERS
Even if you have happy employees, though, it's hard to make customers happy when they are having to buy something they don't especially want to pay for.
"There is nothing sexy about what we sell," Nelson said. "No one likes to buy printers and copiers. No one likes to buy managed IT. No one likes to do any of those things. So inherently it's not a fun thing to write a check for, so something has to feel good."
So what does Fisher's do that makes their customers feel good?
"We spoil the living bejeebers out of our customers," Nelson said. "We are committed to knowing what their workflow is to create a solution that partners with them, and that's all there is to it. We spend the time to get to know what they do, how they do it. We ask the hard questions like, 'What are your financial goals for this year?' 'What is your initiative?' And then we design our solutions around that."
Even if a client's goal is to save money, Fisher's will work with them to find a less expensive solution. Whatever their need, Fisher's is there to back them up.
"You don't feel sold to and we certainly don't want to have that sales feeling," Nelson said. "We want to have that feeling where it is a partner for life. We go to the grocery store and see our customers. We go to church and see our customers. So we want to be able to have integrity enough to know that we've given them the very best that we can and spoil them so that they feel good because you don't feel good about writing that check. It feels annoying. It feels annoying to write a check for a copier. It just does. You hate it when it doesn't work, you hate it when you have to write the check for it, but you can't live without it. So what can we do to lighten the load so that it feels good that they're supporting another company?"
And when Fisher's leaves a customer less than satisfied, they have something to help soothe that over as well: the Fisher's Humble Pie.
"If for any reason a customer is not satisfied with us or we've done something that's caused them distress, we actually give them a pie," Nelson said. "… We certainly will own our mistakes and we'll try better in the future."
Plus, a lot of the technology Fisher's sells can save businesses money. A lot of that has to do with more efficient printers and click rates — the cost for each time someone prints something on a leased printer or copier.
Smaller inkjet printers cost 25 to 30 cents for each color page. The larger walk-up copiers cost 5 cents per page.
"What got explained to me the easiest way is, in the car industry, the big super truck is the least efficient and the Prius is the most efficient. In the copier world, it's the opposite," Brown said.
So while the upfront cost of a walk-up copier might be prohibitive, it could save businesses money in the long run.
Brown said some potential customers balk at signing a lease, but Fisher's is flexible with one- to five-year leases, and outright buying a big piece of technology like that usually ends up being more trouble than it's worth.
"Why own technology?" Nelson said when asked why someone should lease over buying. "Usually when someone buys, they tend to run it until it dies. … It's certainly not keeping up with the technology you've got on your computer because you've updated that one million times. You've gotten different software. You've changed workflows. The same thing you've been using for seven years is standing there right outside your door, but you're expecting it to run like it did on year one when it was sold with the technology that matched what you were using. So if you rent it, then you get technology as it comes out and workflow matches the machine."
Fisher's also does quarterly reviews with each business to make sure what they're getting actually matches their needs, especially regarding how many click rates they use.
"With click rates, the more click rates you use, the better rate you get upfront," Brown said. "But we don't want you going over and charging you overage fees, but you also don't want to be paying for something that you're not using. If your business is really busy in year one and two and then it slows down in year three, we want to be able to go in and adjust those click rates."
Fisher's is also upfront about their contracts and will walk clients through everything in theirs.
"For a long time, printer and copier (sellers), those types of people had a stigma," Nelson said. "It felt a bit used car sales-y. It doesn't have to feel that way. You can be transparent and honest."
THE FUTURE OF FISHER'S
There are a few more cost-saving methods that Fisher's currently sells, but those have yet to catch on, especially in smaller communities.
Regarding managed IT, the Fisher's Technology website says, "We offer a complete range of business technology services that include: network monitoring, back-up and disaster recovery, business class phone systems, mobile device management, virtualization, cloud solutions and much more."
This alone can help businesses save a lot of money. According to Nelson, a lot of businesses will pay one IT person between $55,000 to $65,000 a year. If, instead, they outsourced their IT, they'd pay about 30 percent less every year, and they'd gain a help desk of about 50 people that is available 24 hours a day.
Nelson says this solution is pretty easy to understand, but she has a theory about why people are reluctant to try it:
"Because we're shoulder tappers," she said. "We want someone we can tap on the shoulder and say, 'Come and look at this computer.' At some point, if you can re-educate your people to have a little patience to put in a ticket or pick up the phone and call a help desk that can walk you through it, you can save a significant amount of money. … That's where I think our future is, and in larger cities, they are absolutely getting it."
Even if businesses don't want to outsource all of their IT, there are still some things Fisher's can do to make life easier for the in-house IT people.
"We have companies who have three IT guys and then they pay us to manage all their licensing for Microsoft, and they pay us to do their phones and they pay us to do all their networking to make sure all their networking is secure and running … and then their IT just takes care of the people in the building," Nelson said.
Licensing especially is something that makes more sense for Fisher's to handle because they can buy in bulk at a cheaper price, and you don't have to worry about renewing every month.
"An Office 365 license is $99 a month per person if you just buy it," Nelson said. "You wanna know how much I charge you? $35."
Nelson says she thinks Fisher's biggest role in the future will be that of a middleman.
"I think that's really where our future is going to go is managing and being a broker between those vendors," she said. "The big, big (businesses) and then you."
For more information, visit www.fisherstech.com.